Industrial PE Laminating, Sheet Lamination Machine Manufacturer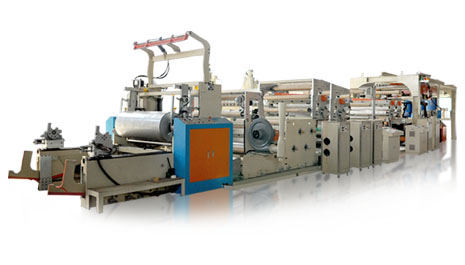 Product Description
High Speed Laminating Machine
PLC controls tugging action of the whole laminating machine. Besides, the computer algorithm controls extrusion capacity of T-DIE automatically and changes tugging action with line speed.
Input uses double shafts of the industrial lamination machine. It can detect the rest of paper automatically and warn in advance. When the paper roll is going to finish, the system will cut and receive the other paper roll automatically.
The advantages of laminating machines are high efficiency, high quantity of output, low failure rate and high quality humanity operation interface.
Main Equipments of PE Lamination Machine:
Mill Roll Stand
Auto Splicer
Corona Treater
Extruder
T-DIE
Cooling System
Gravimetric Blenders
Product Specifications
Industrial Laminating Machine
| Model | VM-1500 | VM-1800 |
| --- | --- | --- |
| laminating method | single side/double side | single side/double side |
| laminating width | 800~1500mm | 800~1800mm |
| laminating thickness | 0.012~0.04mm | 0.012~0.04mm |
| extrusion resin | PE | PE |
| max.extrusion capacity | 400kg/hr | 400kg/hr |
| line speed | 150~250m/min | 150~250m/min |